In many laboratory applications toxic chemicals in powder or crystals form are daily used. The simple opening of the containers, the transfer of the substance or precision weighing operations are just some of the commonly performed manipulations that may involve risk for the operators. All collective protection devices designed and manufactured by the Gruppo Strola such fume cupboard, storage cabinets and down-flow benches are equipped with the best technical solutions to contain and retain toxic substances.
Highly efficient particles captation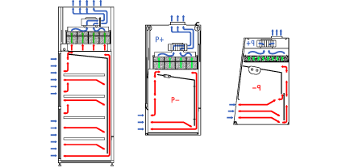 Molecules released within the working area of the fume cupboard are contained thanks to an air flow entering that prevents the leakage as well as to be breathed accidentally by the operators. Thanks to the presence of specially designed and validated aerodynamic edges the containment action is optimal, without sacrificing comfort and ergonomics of use. Moreover, the presence of a internal back-baffle ensures that even the heaviest molecules can effectively be dragged towards the suction plenum, ensuring effective uptake.
High efficient filtration system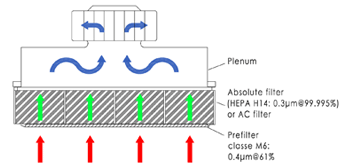 Our collective protection devices are designed to operate with high efficient filtration systems to allow the total retention of released pollutants. Thanks to a double filtering stage (1st prefiltration, 2nd absolute filtration) we are able to separate the molecules in order to optimize the life-time of the high-value main filter elements by reducing operating costs of the device.
Special accessories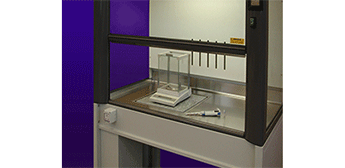 Our fume cupboard for powders handling can be configured according to specific needs of operators installing especially designed accessories. For example our fume cupboard can be equipped with anti-vibration stands and airflow-stand-by inter-locking systems to ensure precision weigh up the 5th decimal place with the greatest possible repeatability, as well as we can provide lateral waste systems to ensure the total containment of toxic molecules.
The filtration system installed on fume cupboard for powders handling is fully adaptable to the needs of use. It features a first pre-filtration stage with M6 class of filters to avoid main-filters clogging due to environmental particles then a main filtration stage layered depending on the type of manipulation carried-out to retain the hazardous molecules released during chemicals manipulations.
Absolute filters availability:
HEPA class H14: retention efficiency 99.995% at 0.3 µm (ref. EN1822: 2009)
ULPA class U17: retention efficiency 99.999995% at 0.3?m (ref. EN1822: 2009)
It is even possible to install activated-carbon secondary filters so as to extend the range of use and the containment against vapors of substances in the liquid phase occasionally used. The modularity is made possible thanks to the use of HEPA filters and activated carbon filters of different thicknesses (100mm, 60mm and 40mm) with different coal types based on the type of molecule to be retained.
C100: specific for organic solvents suitable for general uses
C200: specific for formaldehyde and glutaraldehyde vapors
C300: specific to ammonia vapors and amines
C400: specific for acid vapors
Some examples of available layouts are provided below.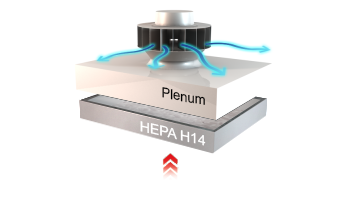 Frequence of use:
100% powders
Filtration unit layout:
1x absolute filter HEPA H14
Frequence of use:
80% powders+ 20% organic solvents
Filtration unit layout:
1x absolute filter HEPA H14
1x activated carbon filter C100/B4
Our solutions for powders manipulation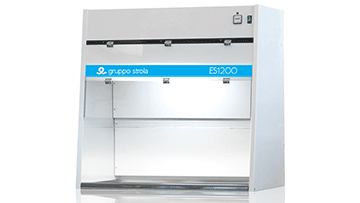 ES-Series
Compact and easy-to-use filtration fume cupboard available in two dimensions 800/1200mm. Designed to fit the need of installation within laboratories with logistical constrains such small aisles, narrow stairs or no elevator availability. Usable with or without an exhausting connection, but with embedded filters.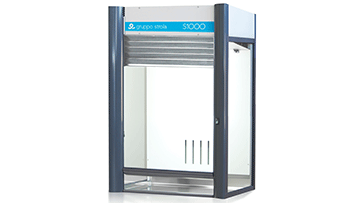 S-Series
Ducted fume cupboard available in four dimensions 1000/1200/1500/1800 working with an exsting ventilation system. CAV (constant-air-volume) type fume cupboard that does not need any complex control system. They feature high reliability and durability. Highly customizable through many available accessories and dimension personalization to best fit user's need.