Formaldehyde in its main forms such as formalin (formaldehyde aqueous solution) is daily used within laboratories involved in the manipulation of tissues such as anatomy-pathology or histology. Highly toxic, mutagenic and carcinogenic this molecule presents considerable risks to the health of workers who must be protected from the risk of inhalation. The simple opening of the findings containers, the purging of formalin solution for filling or the sectioning of findings are just some of the typical operations that lead users to the risk of inhalation of formaldehyde vapors. The Gruppo Strola, with over 30 years experience in fume hoods manufacturing, proposes solutions especially designed for formaldehyde-vapors containment to reduce the risk of harmful inhalation during findings-handling operations.
Efficient vapours captation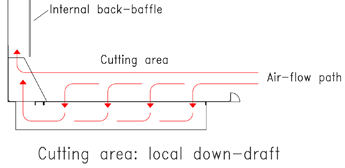 Our fume cupboards are equipped with specially designed and tested aerodynamic edges to allow maximum containment without losing comfort and ergonomics. Thanks to the presence of an internal back-baffle even heavier molecules can be brought effectively towards the suction plenum, ensuring effective uptake of the vapors directly at the origin. Finally, to ensure maximum effectiveness of the uptake in the cutting zone, this is equipped with its own down-draft ventilation which allows it to locally capture formaldehyde vapors.
High efficient filtration system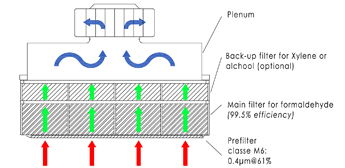 The filters installed on our fume cupboard are made with top-quality activated carbon and specially impregnated for retention of formaldehyde. Their efficiency has been demonstrated to be above 99.5% (ref. BS7989: 2001). The presence of a double filtering stage (1st prefiltration, 2nd main filtration) allows to separate the environmental particles that may prematurely occlude the main filters. Finally, thanks to the use of a powerful fan we are able to provide ductless fume cupboard that can be even connected directly to an exhausting system without the aid of expensive remote blowers.
Especially designed accessories
Our fume cupboard for handling of specimens under formalin can be configured according to specific operators' needs installing accessories especially designed as sinks, cutting area, video capture systems, shelves door samples or video recording systems. The worktop can be manufactured according to the operators' needs placing in different position drip-cups, sinks and taps.
The filtration system installed on fume cupboard for the handling of formaldehyde is completely adaptable to the requirements of use and has been designed for use with this specific substance. It is characterized by a first pre-filtration stage with M6-class filters that  remove environmental particulate, then a main filter unit made with impregnated activated carbon specific for the retention of formaldehyde that retains this dangerous molecule allowing the total recycling of the laboratory air without affecting air-handling units.
It is even possible to install active-carbon secondary filters so as to extend the range of use and the containment also to vapors of substances in liquid phase occasionally used. The modularity is made possible thanks to the use of HEPA filters and activated carbon filters of different thicknesses (100mm, 60mm and 40mm) and installing  different activated-carbon types based on the type of molecule to be retained.
C100: Specific for organic solvents and suitable for general use (suitable for solvents such as alcohol and xylene)
C200: specific for formaldehyde and glutaraldehyde
C300: specific for ammonia vapors and amines
C400: specific for inorganic acid vapors
Absolute filters for powders such as HEPA or ULPA
Some filtration-system layout examples are provided below.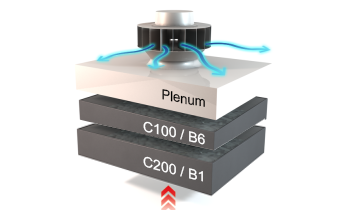 Frequence of use:
90% formalin+ 10% solvents (alchool / xylene)
Single filtration unit layout:
1x main activated carbon filters C200/B1 specific for formaldehyde retention
1x secondary activated carbon filters C100/B6 suitable for organic solvents
Our solutions for formaldeyde handling
DFB
Down-flow benches for formalin-fixed specimens handling available in two different dimensions and two different versions (with or without sinks). Highly customizable and equipped with its own blower and filtration system with impregnated activated carbon for formaldehyde retention. Usable with or without an exhausting connection, but with embedded filters.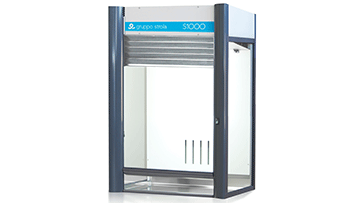 S-Series
Ducted fume cupboard available in four dimensions 1000/1200/1500/1800 working with an exsting ventilation system. CAV (constant-air-volume) type fume cupboard that does not need any complex control system. They feature high reliability and durability. Highly customizable through many available accessories and dimension personalization to best fit user's need.